Description
For gazing wide and bright field of view, and faint objects like nebulae and star clusters
Featuring excellent rigidity, stability, and portability, the popular PORTA II alt-azimuth mount with superior 130mm aperture newtonian reflector outperforms in viewing faint celestial objects like nebulae and star clusters.
The perfect medium aperture, pick up and go scope and mount package. The R130Sf 5″ Newtonian telescope comes standard with the 6×30 finder and dovetail tube plate that attaches quickly to the Porta II Mount.The PORTA II gives great performance when viewing objects at high magnification, the damping and vibration being significantly reduced as compared to other lesser quality telescope mounts
.Universe Today says "The Vixen R130Sf is absolutely the perfect size for someone who needs enough aperture to light up popular deep sky objects, but doesn't need to lug around a 12" telescope.The Porta II Mount II is quality through and through, it's not going to just fall apart on you and it would be oh-so-easy to adapt any number of other telescopes right to it just as easily as the R130Sf went into place with that blessed universal dovetail.
The R130Sf with Porta II Package comes complete with:
R130Sf Newtonian Reflector telescope 5.1 inch f/5.0 Optical Tube
6×30 finderscope
Finder Bracket
1 1/4″ eyepiece adapter
Eyepieces: PL 20mm, PL 6.3mm
Tube Rings Dove-tail-plate Porta Mount with locking extension legs, accessory tray, slow-motion controls, adjustment tool set and removable mount head
Optical Design: Parabolic Mirror Reflector
Aperture: 130mm
Focal Length: 650mm
Focal Ratio: f/5.0
Coating: Multi Coating
Resolving Power: 1.45 arc sec
Limiting Magnitude: 11.3
Light Gathering Power: 345x
Finder Scope: 6x30mm
Finder; Field of View 7degrees
Adapter Thread: 42mm/ For T-Ring
Visual Back: 31.7mm Push Fit
Optical Tube Length: 22.6″ (575mm)
Optical Tube Diameter: 6.3″ (160mm)
Optical Tube Weight: 8.8 lb
Mount: Port II Altazimuth Mount
Tripod: Aluminum 2 section adjustable; 90cm to 13cm
Mount Weight: 15 lb including tripod
Load Capacity: 20 lbs
Vertical and Horizontal Slow Motion: 120Tooth Wheel Gears whole circle movement; Friction control system
Telescope Attachment: Dove Tail Plate
Accessories: Flexible Slow Motion Handles (2), PL20mm; PL6.3mm
Description:
1. Slow motion handles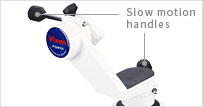 2. Dovetail-plate attachment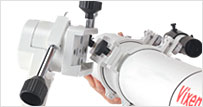 3. Accessory tray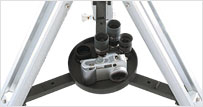 4. Compartment for tools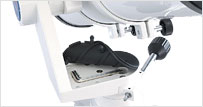 5. Detachable tripod system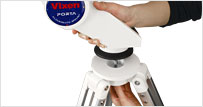 6. Friction control system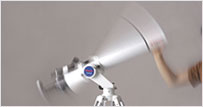 7. Finder scope
All optical tube units with PORTA II alt-azimuth mount is equipped with finder scope to facilitate pointing the celestial object.